The Magnetic Hill in Ladakh is one of the most popular destinations apart from Nubra Valley, Pangong Tso, and Khardung La. 
The Magnetic Hill in Ladakh defies gravity and is just situated 27km from Leh Town. Ladakh is also known as the 'land of high passes and is the coldest known desert situated between the Karakoram mountain ranges. Apart from its high mountains, this place also houses pristine lakes and barren mountains. Depending on the weather conditions, the colours of night skies change as well. It is for this reason that Ladakh is also called Heaven on Earth. 
Magnetic Hill In Ladakh
The Magnetic Hill Leh is just a tiny road stretch that is situated on the Leh-Kargil highway. One of the main reasons Magnetic Hill is popular is that it significantly defies gravity and how it is significantly surprising. 
When the Magnetic Hill starts, there's a yellow box around the side which is marked by BRO (Border Roads Organization). Even when you put your car in neutral gear, your car will start moving uphill in full swing. It has a sign that eventually mentions how the Magnetic Hill in Ladakh defies gravity.
This is one of the main reasons why so many tourists worldwide visit the Magnetic Hill Leh. Moreover, there are so many theories and facts surrounding the place. You can stand here and watch the stretch to click pictures, recording videos, and indulge in some peace. Because of this extraordinary phenomenon, the place is also known as The Wonder of Ladakh. 
Theories Surrounding The Magnetic Hill In Ladakh
As suggested above, several facts and theories are surrounding Magnetic Hill. While many tend to believe it, some believe that these are just myths. Well, some of these theories include the following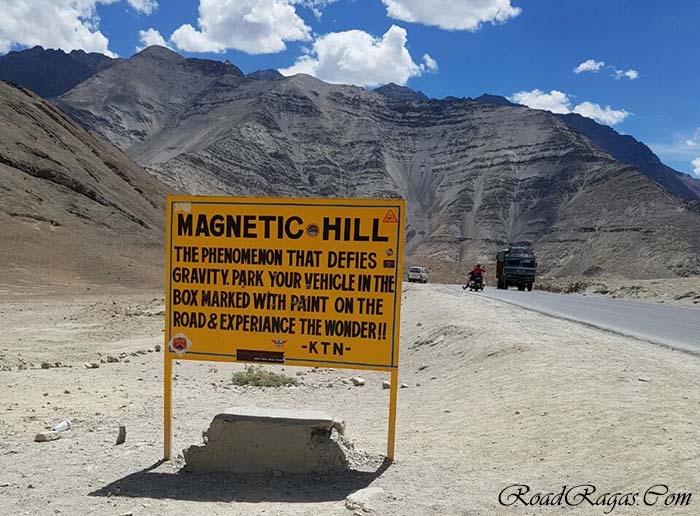 Ever High Superstitious Theory
If you visit Ladakh for the first time, the locals will tell you a story about the Magnetic Hill of Ladakh. The locals, especially the elderly people of Ladakh, believe that this is the place that leads one to heaven. Hence, they call the place a 'magical path to heaven.' 
According to their beliefs, the story deals with how the road sent people with good karma to heaven. Hence, anyone who did good deeds and was deserving would simply walk to heaven from this path. But, it is just a superstitious theory framed by the locals. 
Earth's Magnetic Force
There's no proper proof of this, but many believe that Earth's high magnetic force leads to vehicles being pulled up in reverse direction or uphill. Many also say that whenever fighter planes or aeroplanes fly above this area, they either increase their speed or divert from their path. This is mostly done to avoid the impacts. 
Optical Illusion
One of the most important things to note about this place is that many people believe that this place is nothing but an optical illusion. Many people worldwide believe that the slope is actually in a downward direction but tends to appear upright because of the terrain misconception. As a result, when any vehicle moves, it appears as if it is going uphill.
Out of all the theories mentioned above, the Optical Illusion Theory is one of the most acknowledged ones. This theory has also created a lot of buzzes.
Is It Really An Optical Illusion? 
The Magnetic Hill in Ladakh is actually considered to be an illusion because of the obstructed horizon. Due to the obstructed horizon, the human eye can only perceive the horizon depending on a particular reference point. Furthermore, it tricks the human mind to believe that the Magnetic Hill in Ladakh defies gravity which is actually a terrain misconception.
Information About Magnetic Hill
Every other person in this world wants to explore the Beauty of Magnetic Hill. If you're one of them and visiting Ladakh for the first time, you might as well want to know some extra information about Magnetic Hill.
Well, before you visit Magnetic Hill, you should be prepared with medical aid, fuel, mobile connection, and more.
Mobile Connection
It's surprising, but the mobile connection in the Magnetic Hill in Ladakh is actually surprising. However, one important thing to note about this place is that only postpaid connections work in this area. BSNL and Airtel offer great coverage. Hence, you can easily be in touch with your friends and family.
ATM
No matter where you set to travel, money has always been a necessity. An ATM is your easiest source to withdraw money anytime you travel. There are ATMs in Leh and Kargil market. So, before you set out on your journey to explore the Magnetic Hill Leh, you should withdraw money.
Medical Facilities
The Magnetic Hill is situated at the height of 14000 feet, so many travelers may face blood pressure and breathing problems. But, if you face any other problem in your trip to Magnetic Hill, you can reach for medical assistance at the Sonam Norbu Memorial Hospital.
There are several medical shops and chemist and druggist stores available in Leh Market. Nonetheless, you should only purchase medicines that the respective doctors have prescribed. When you're here, you should follow a healthy lifestyle and avoid unhealthy foods or smoking. Moreover, you should drink enough water to keep your body hydrated. A good and healthy lifestyle will play an important role in maintaining the balance of your body.
Petrol Pumps
Before you start moving towards the Magnetic Hill in Ladakh, you should refuel your vehicles. There are several petrol filling stations from HP and Indian Oil at the Leh-Kargil-Batalik National Highway.
What Is The Minimum Duration To Explore The Magnetic Hill?
If you are in Leh, it is advisable to set out on a two-hour drive towards the Magnetic Hill in Ladakh. There are several theories that you will want to follow regarding the Magnetic Hill.
What Is The Best Time To Visit Magnetic Hill?
You can easily reach Ladakh from Srinagar or Manali. However, the route is closed from November to May owing to heavy snowfall. As a result, if you're planning to visit Magnetic Hill during winter, you should consider travelling via air.
Winters can be extremely chilly in Ladakh. The place is itself known as the Cold Desert. So, to visit this place during winter may not be the right choice to make. It is advisable to visit Leh and Ladakh during the summers from May to September. The roadways are open too during this time and not blocked by heavy snowfall.
You can definitely plan your trip during winters, but you should be ready to witness the wrath of winter during this time. Constant snowfall only turns Ladakh into White Beauty. So, if you're ready to explore the beauty of the place, Magnetic Hill in Ladakh during winter should definitely be on your list.
Do I Need Any Permits?
If you want to visit Magnetic Hill in Ladakh, you do not need to have proper permits. You can easily get the Inner Leh Permit for Leh DC Office. However, you will need to pay a nominal charge of INR 200, which already includes Red Cross Donation and the environment tax.
Magnetic Hill should be on one of your must-visit places list. If you're awestruck by the beauty of the place, you wouldn't even know how your time passes here.