Avul Pakir Jainulabdeen Abdul Kalam, also known as APJ Abdul Kalam, was the former President of India. He was the 11th President of the country from 2002 to 2007. APJ Abdul Kalam was a renowned author and aerospace scientist and APJ Abdul Kalam quotes work as inspiration for millions of people in India and other countries in the world. He is called the Missile Man of India for his stupendous contribution to ballistic missile and carrier rocket technology.
Literary works of APJ Abdul Kalam
APJ Abdul Kalam has authored the following books:
India 2020 
Wings of Fire 
Indomitable Spirit 
Ignited Minds 
Transcendence: My Spiritual Experiences with Pramukh Swamiji
In the book India 2020, he intensely endorsed a strategy to transform India into a developed country by 2020 and also a knowledge superpower.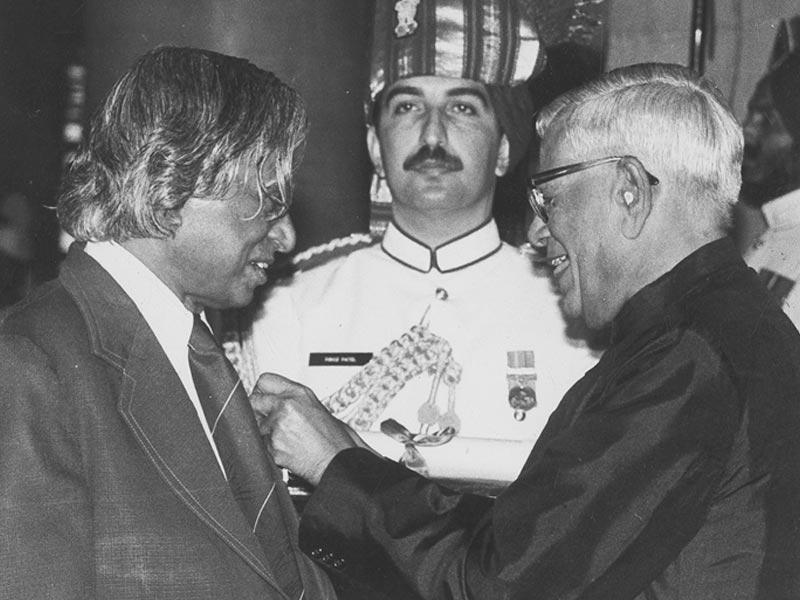 APJ Abdul Kalam Quotes: Why are they special for us?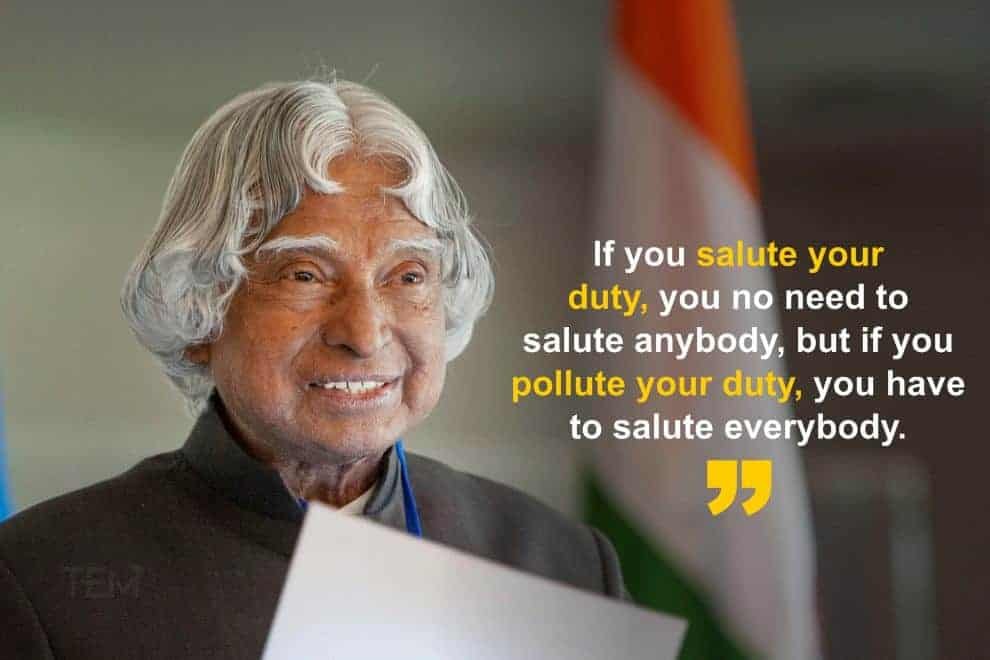 APJ Abdul Kalam quotes act as sources of inspiration for countless people across the world. The quotes of APJ Abdul Kalam are eagerly followed by millions of students who are in love with science and technology. APJ Abdul Kalam Quotes in English are most commonly available. However, his quotes have also been translated into other languages. Some of the most popular APJ Abdul Kalam quotes are given below:
1) "Dream is not that which you see while sleeping it is something that does not let you sleep. And thoughts result in action." ~ APJ Abdul Kalam
2) "If you fail, never give up because F.A.I.L. means "First Attempt In Learning". End is not the end, in fact, E.N.D. means "Effort Never Dies." If you get No as an answer, remember N.O. means "Next Opportunity", So let's be positive." ~ APJ Abdul Kalam
3) "Unless India stands up to the world, no one will respect us. In this world, fear has no place. Only strength respects strength." ~ APJ Abdul Kalam
4) "Don't take rest after your first victory because if you fail in second, more lips are waiting to say that your first victory was just luck." ~ APJ Abdul Kalam
5) "I'm not a handsome guy, but I can give my hand to someone who needs help. Beauty is in the heart, not in the face." ~ APJ Abdul Kalam
6) "Be active! Take on responsibility! Work for the things you believe in. If you do not, you are surrendering your fate to others." ~ APJ Abdul Kalam
7) "Luxury and Lies have huge maintenance costs. But Truth and Simplicity are self-maintained without any cost." ~ APJ Abdul Kalam
8) "All of us do not have equal talent. But, all of us have an equal opportunity to develop our talents." ~ APJ Abdul Kalam 
9) "Climbing to the top demands strength, whether it is to the top of Mount Everest or to the top of your career." ~ APJ Abdul Kalam
10) "No matter what is the environment around you, it is always possible to maintain brand of integrity." ~ APJ Abdul Kalam
11) "You cannot change your future, but, you can change your habits, and surely your habits will change your future." ~ APJ Abdul Kalam
12) "All Birds find shelter during rain. But Eagle avoids rain by flying above clouds." ~ APJ Abdul Kalam
13) "The best brains of the nations may be found on the last benches of the classrooms." ~ APJ Abdul Kalam
14) "Look at the sky. We are not alone. The whole universe is friendly to us and conspires only to those who dream and work." ~ APJ Abdul Kalam
15) "One best book is equal to hundred good friends, but one good friend is equal to a library." ~ APJ Abdul Kalam
16) "Man needs difficulties in life because they are necessary to enjoy the success." ~ APJ Abdul Kalam
17) "Thinking is the capital, Enterprise is the way, Hard Work is the solution" ~ APJ Abdul Kalam
18) "I will work and sweat for a great vision, the vision of transforming India into a developed nation." ~ APJ Abdul Kalam
19) "You have to dream before your dreams can come true." ~ APJ Abdul Kalam
20) "Let us sacrifice our today so that our children can have a better tomorrow." ~ APJ Abdul Kalam
21) "Empty pocket teaches you a million things in life, but full pocket spoils you in a million ways." ~ APJ Abdul Kalam
22) "If you want to shine like a sun, first burn like a sun." ~ APJ Abdul Kalam
23) "Winners are not those who never fail but those who never quit". ~ APJ Abdul Kalam
24) "Excellence happens not by accident. It is a process." ~ APJ Abdul Kalam
25) "To succeed in your mission, you must have single-minded devotion to your goal." ~ APJ Abdul Kalam
APJ Abdul Kalam thoughts are revered throughout the world. Sheikh Hasina, the prime minister of Bangladesh, had praised Kalam and symbolized him as a source of motivation for the teenagers in South Asia.
She also mourned his death and stated that his passing away is an irretrievable loss for India and other countries as well.
The President of Afghanistan, Ashraf Ghani, denoted Kalam as a motivational icon for millions of human beings. He also stated that his life has many lessons to enlighten us. 
The president of Maldives, Abdullah Yameen, and the vice president of the country, Ahmed Adeeb expressed grief on his demise. The president also stated that Kalam was a well-wisher of Maldives and would remain a source of motivation to millions of South Asians.
We know him as the People's President and his commitment towards the wellbeing of the common public has earned him accolades from millions of fans across the world.
On a special note, Ban Ki-moon, the Secretary-General of the UN came on a diplomatic mission to India following Kalam's demise and signed a commiseration publication. 
A.P.J. Abdul Kalam inspiring thoughts should become lessons in everybody's life who want to make a mark for themselves in this competitive world.