Introduction
When someone is asked who is Jim Corbett, it is very easy to come up with one simple answer that says Jim Corbett was one of the greatest hunters that existed in this world. However, limiting Jim Corbett's existence to that few words would be rather unfair.
We need to take a deep look at history in order to realise who Jim Corbett was for real. However, before we begin to talk about the different facts about the much-celebrated human being whom we have started to discuss in this block, we would like to share a trivia regarding Jim Corbett with you.Did you know that a park entitled the Jim Corbett National Park exists on planet earth? 
In this blog, we will further attempt to discuss the history of the Jim Corbett National Park. We sincerely hope that this article will bring to your notice a number of things that you may have missed while knowing about the famous individual entitled Jim Corbett. 
Come on, let us now begin!
A Detailed Look into Jim Corbett's Life
When we talk about Jim Corbett, it is essential to identify his many Coloured identities. If you ask us we will always say, that not only was Jim Corbett a skilled Hunter, but also a skilled narrator of tales as apparent in his narration that he has performed in his first book entitled Man-Eaters of Kumaon.
Given how perceptive he has been about wildlife, and the associated threats that it intrinsically takes account of, people have often also called him to be extremely adept in predicting the future of a given species.
Thus, we believe that we have been able to successfully break into your notion of Jim Corbett being merely a Hunter, and we further hope that we have been able to convey to you that Corbett is regarded as Corbett today for more reasons than just one. 
Next time you have to answer the question who is Jim Corbett, we hope that you come up with the answer that he was a nuanced character with many qualities. As we move forward in this blog, we will share with you exciting details about him that we do not want you to miss out on.
Jim Corbett Trivia
Did you know, that Jim Corbett published a book entitled Man-Eaters of Kumaon that came out in the year 1944, and happened to be a great hit in the market? We all know, that we have a natural proclivity towards liking things which has an amount of adventure associate do it.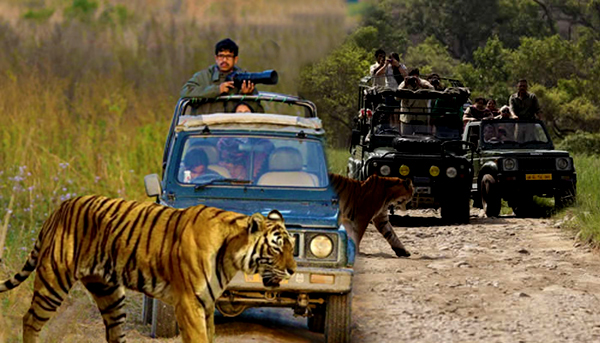 Hence, the first book by Jim Corbett, made a killing in the market given it talks about the heroic deeds of this man, which has a very high level of courage and adventure associated with it. As human beings, do we not always tend to lean on the heroic qualities that an individual has? Of course, we do.
It is only for this reason that not only did Jim Corbett write a single book but followed up with several other ones. Let us now have a detailed look at the work of the hero, Jim Corbett.
What Happens in the Man-Eaters of Kumaon by Jim Corbett? An Overview to the Narrator Jim Corbett
Like you have noticed already, we have an immense amount of respect for the narrator Jim Corbett. In fact, when someone asks who is Jim Corbett, we often end up considering him a narrator first. We believe that t is not for free, that Jim Corbett is a part of the course pack of many students of literature across the world.He has his own unique way of narrating, a great holdover language, and needless to mention a wonderful narrative pace, which compels the readers into sitting tight until the catharsis. 
The book that we just mentioned happens to be the first one by Jim Corbett, in which he carefully narrates the extreme amount of anxiety that is associated with the presence of a Tiger which can not only kill but eat human beings.It is in the book, that he talks about this extremely wild tigress who repeatedly kept killing people to quench her thirst for blood. This process, at a given point, as Corbett says had become never-ending.
As an extremely efficient narrator, Jim Corbett carefully narrated the exact pathway that the Tiger followed, the ways in which it moved around, and the fashion in which it killed. According to his own account of things, Jim Corbett had spent a substantial amount of time behind following the tigress wherever she went.
However, so it happened that it took Jim Corbett a number of attempts to be able to finally kill the tigress in concern. Unless you are a good narrator, it is impossible to make your reader sit through such an adventures account. However, Jim Corbett gives the due credit to their fellow villagers without whose help he, according to his own opinion, couldn't have ended up killing the man-eating tigress. 
The Jim Corbett National Park
We presume that you had a fair share of idea about the fact that the much-celebrated Jim Corbett National Park is situated in India's Uttarakhand. The Jim Corbett national park map should not be too difficult to follow and reach, given Utrakhand happens to be situated in India's North. In case you do not sufficiently knowledgeable about the history of Jim Corbett National Park, you may be wondering at this point regarding what this National Park may be all
about? Well, you certainly do not need to sweat. The answer to your question is no rocket science, simply put, the Jim Corbett National Park is a sanctuary that is dedicated to wildlife.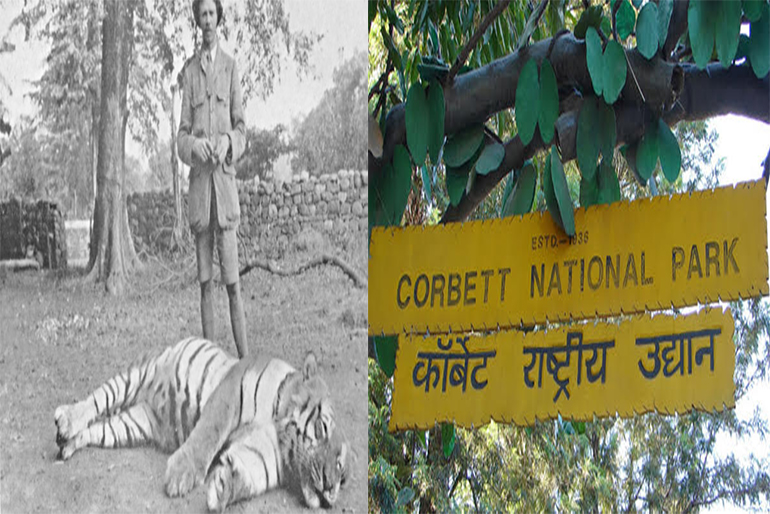 We all know about Jim Corbett's connection with Bengal, thus this sanctuary also largely prioritizes the presence of Bengal Tigers. It would not be an exaggeration if we end up calling Bengal Tigers by the name of Jim Corbett Tigers indeed. In fact, the Jim Corbett National Park is one of the most important tourist spots in Uttarakhand today. In case you are planning to take a trip around the Nainital region, we recommend that you do not miss being in the Jim Corbett National Park, imbibing greatly from the history of Jim Corbett National Park establishment, as a part of the rich cultural heritage of our country. 
When should you Visit Jim Corbett National Park?
Of course, you will have your own preferences when it comes to visiting the Jim Corbett National Park. However, going by the history of Jim Corbett National Park, we would recommend that the ideal time to pay a visit to the Jim Corbett National Park would be the season of winter. We say that you travelled to this place during winter solely on the basis of the fact that, many people tend to get tired during the long, hot days of summer, and other associating seasons. 
When you are in Jim Corbett National Park, you sure need to look around, Ann walked through the places to check everything out. Given how long, and broad the Jim Corbett National Park map is, we recommend that you travel during the winter so you can make the most of your trip. It is essential for you to be able to look at the different sorts of flora and fauna coexisting, which will require a lot of energy from your end. Hence, we hope that you will keep our consideration in mind in case you get tired too easily during other times of the year. 
Conclusion
In this blog, we tried to put in front of you a clear conception regarding who is Jim Corbett. In our opinion, he is surely not an ordinary man, but a hero, who also happens to be an all-rounder, by and large.
We will forever go on to say, that Jim Corbett, the man who saved Bengal is a star that people willingly celebrate for his extraordinary skills in more areas than one, as we have spoken about. 
Furthermore, we tried to provide certain facts about Jim Corbett, the Jim Corbett National Park, as well as the history of the Jim Corbett National Park, with regard to the Jim Corbett National Park map. We sincerely hope, that this blog will help you discover Jim Corbett in a different light, and acquire useful information about how, and when to visit the Jim Corbett National Park, and why exactly. Good luck!