Are you searching for the fastest web-hosting service available on the Internet?
Having a good hosting service can be of great importance to any business. It can reduce the downtime needed to load your website, make it more SEO-friendly, and generate more clicks and visits. A good web hosting service will also make your site more secure, which will attract even more customers. If you want to learn more about the importance of having a good uptime, here is an article for you.
Finding the right hosting service can be quite difficult. There are many that are available on the Internet. If we compare their average uptime speeds, it seems that SiteGround and Hostinger take the cake. We shall now compare them, and look at their pros and cons.
Fastest Hosting Services:
AccuWeb.Cloud
SiteGround
Hostinger
BlueHost
A2 Hosting
Dreamhost
Let us begin comparing them!
Related Article: VIVO Y30: A Mobile Phone Worth Its Price Or Not?
1. AccuWeb.Cloud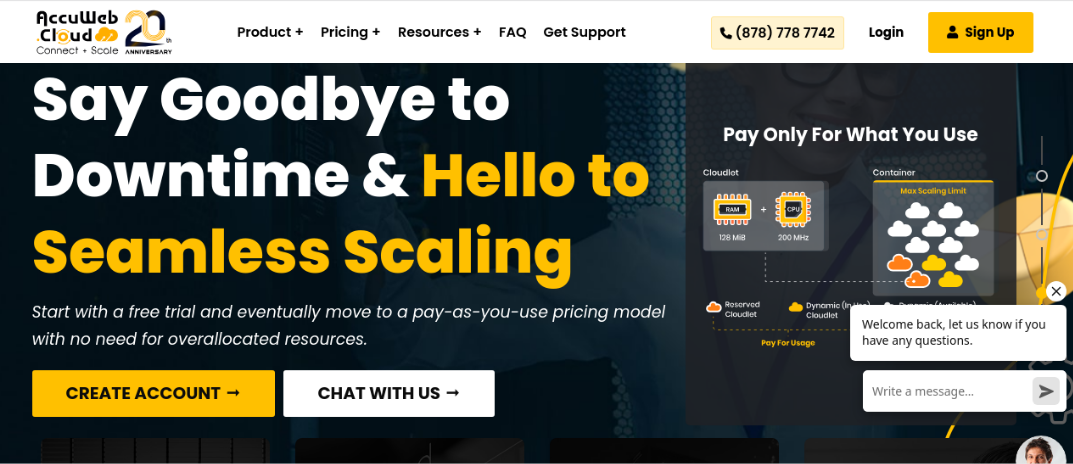 AccuWeb. Cloud offers a complete range of cloud services that can be customized to meet the unique requirements of different businesses. Whether you need a simple website hosting solution or a complex cluster environment, we have the expertise and resources to meet your needs.
Accuweb. Cloud is your one-stop destination for a wide range of cloud applications, such as WordPress, Magento, PHP, Node.JS, Java, Ruby, Python, Kubernetes, Docker, Drupal, Joomla, MySQL, MYSQL, MariaDB, etc…
Features:
15-day Free Trial with $100 Credit

Horizontal & Vertical Scaling

Pay as you Pricing Model

No control panel require
Pros:
Cloud hosting allows you to scale your resources up or down based on your needs.

Accuweb.Cloud typically operates on a pay-as-you-go pricing model, where you only pay for the resources you use.
2. SiteGround
Pros:
Great Uptime (99.99%)
Sufficient Load Time (756 ms)
Free SSL, email, CDN, & backups
Endorsed by WordPress
Cons:
Plans are limited and cheap
Monthly plans require a setup fee
WordPress has recommended SiteGround and it is quickly gaining ground as one of the best hosting services available.
It uses Google Cloud to maintain secure and swift connections, and its SSD persistent data storage helps in reducing latency. SiteGround also includes website builder, SSL, email account, daily backups, SSH access, and Cloudflare CDN in all of its plans. This makes it very enticing for someone new to website-building.
3. Hostinger 
Pros:
Fast loading time (345 ms)
Plans start at just $0.99/mo
Offers a free domain and SSL certificate
Datacenters in Asia, the US and Europe
Cons:
Cheap plans offer limited bandwidth
Poor Uptime (99.74%)
If you're looking for something cheap without compromising much, then Hostinger would be a good place to start. With plans starting at $0.99/mo, it is most definitely the cheapest option available.
It offers a free domain, 100GB SSD storage, unlimited emails and bandwidth. This makes Hostinger a compelling choice for beginners.
 4. BlueHost 
Pros:
Good Uptime (99.96%)
Fast Speed (641 ms)
Beginner-friendly, easy to use
Recommended by WordPress
Cons:
Discounts are available only for longer plans
Bluehost is also recommended by WordPress and is extremely popular for its wide variety of features.
Features such as free domain name, website builder, and one-click install for WordPress, Joomla, and Drupal make Bluehost very attractive. They also offer fantastic analysis and SEO tools designed to optimize the performance of any web page. Bluehost is also incredibly user-friendly, making it a good option for starters.
5. A2 Hosting
Pros:
Fast load time (279 ms)
Good uptime (99.97%)
Servers optimized for WordPress
Allows free and easy site migration
Allows more than twenty accounts for e-mails
Cons:
Higher renewal Cost
A2 Hosting is optimized mainly for websites developed in WordPress, which allows it to use LiteSpeed cache. This means it has the fastest load time compared to other hosting services. A2 Hosting is a great fit for web developers. It can work seamlessly with all major content management systems such as WordPress, Joomla, Drupal, OpenCart, and Magento.
6. Dreamhost
Pros:
Uptime guarantee
Monthly plans available
Recommended by WordPress
Free SSL Certificate
Cons:
Poor uptime (99.62%)
Loading time slow (1180 ms)
Dreamhost is one of three hosting services recommended by WordPress. It offers strong security features, domain management tools, and unlimited data transfer per month.
The only concerns are the poor uptime and the slow speed. Despite that, Dreamhost remains an extremely popular hosting service.
Conclusion
So, have you decided which hosting service you're going to go for? Keep in mind that although they do offer similar features, they have their differences. Some are unique in what they offer. We would also recommend you compare them using different factors, such as pricing, uptime, speed, support and so on. In the end, trust your heart, and do what it tells you to do!
Also Read: A Case Study on Infosys