Get ready for a digital transformation in reality TV as Glance collaborates with Bigg Boss 17. This groundbreaking partnership will change how you experience your favourite reality show.
Glance, with its vast user base of 220 million worldwide, has dedicated this year to Bigg Boss fans. With Glance's innovative twist, Bigg Boss, the beloved reality TV show, is taking a new turn. Glance's revolutionary smart lock screen technology is here to stay throughout the entire duration of Bigg Boss 17.
Glance's smart lock screen is seamlessly integrated into Bigg Boss 17, elevating the king of reality TV to new heights. Expect an exhilarating three months of entertainment for Bigg Boss 17 fans, Glance users, and reality TV enthusiasts.
When you think of Bigg Boss 17, you'll think of Glance. Glance's smart lock screen benefits the contestants and viewers, acting as the contestants' aide and your trusted assistant for this Bigg Boss season. In the article below, explore this unique partnership and its impact on the reality TV landscape.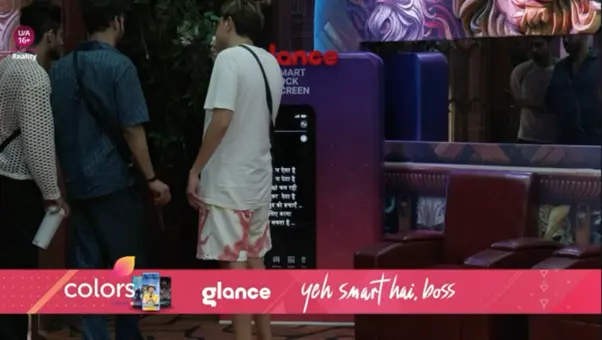 Glance Smart Lock Screen: Reality TV at Your Fingertips
There is no need to unlock your smartphone to watch your favourite reality TV show. With Glance, you can enjoy the experience right on your lock screen. While watching a full episode is exciting, who has the time to watch 24/7? Life goes on, but Bigg Boss 17 is constantly evolving.
Glance, your smart lock screen partner, has covered you with all the updates you need, delivered directly to your lock screen. Say goodbye to unreliable news portals and enjoy accurate and timely updates from Glance.
Glance, Strategy, and Bigg Boss
A New Era of Reality TV Bigg Boss has followed a familiar format over the years, but this season, there's a game-changing addition – a giant smartphone with the Glance smart lock screen. Contestants are now playing strategically, and Bigg Boss has some surprises. Prepare for a thrilling season where the smartest contestant may have the upper hand.
Glance with Bigg Boss 17 Contestants
A Reality TV First In a first-for-reality TV show, Bigg Boss will select contestants this season through Glance. The addition of Glance adds an extra layer of excitement to the show, making it even more unpredictable. Glance's smart lock screen offers surprises for its users, making the viewing experience all the more enjoyable.
Glance in Bigg Boss 17: Shaking Up Reality TV
Bigg Boss seems to be playing favourites this season, giving some contestants an edge with Glance's updates. However, with the unpredictable nature of the show, anything can happen. Glance users can expect an exciting journey with plenty of surprises.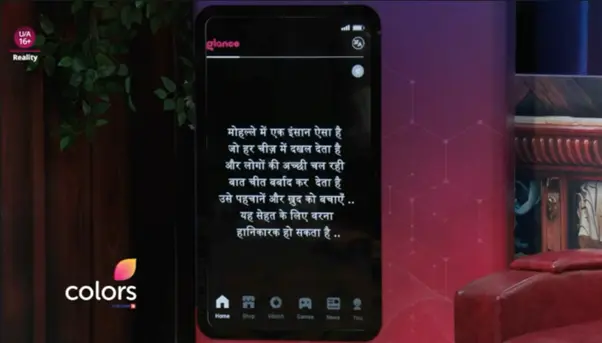 Glance Smart Lock Screen: Access to Live Shows on Reality TV
Glance will host 30 live shows dedicated to Bigg Boss this year, featuring your favourite streamers. These shows will provide a platform for discussing smart gameplay, daily inspirations, and joyful adventures. Viewers can also participate in quizzes and polls during these live shows, adding to the interactive experience. Take advantage of the contests for a chance to meet Salman Khan.
Glance Smart Lock Screen: More than Just Reality TV
Glance offers more than just Bigg Boss updates. With the tagline "Har Pal Kuch New," it caters to 250 million users daily. Explore games, live streams, stunning wallpapers, celebrity interviews, and music. Glance even provides content in seven local languages for India, making it a versatile platform.
Glance and Bigg Boss 17:
Changing the Face of Reality, TV Bigg Boss 17 and Glance have combined to redefine reality TV. This season, it's not just about the contestants; it's about the fusion of technology and human intellect. Glance users can expect personalized updates and a unique viewing experience. Don't miss out on this incredible journey – enable Glance and be part of the excitement.
To enable Glance, follow these simple steps:
Open the "Settings" on your smartphone.
Look for "Display" or "Lock Screen" in the settings menu.
Find the "Glance" option in the menu or scroll through the lock screen and drop-down menus.
Check the box or toggle that says, "Enable Glance." The location may vary depending on your smartphone type.
Also Read: What is a Glance Lock Screen? Top 10 benefits of Glance Lock Screen